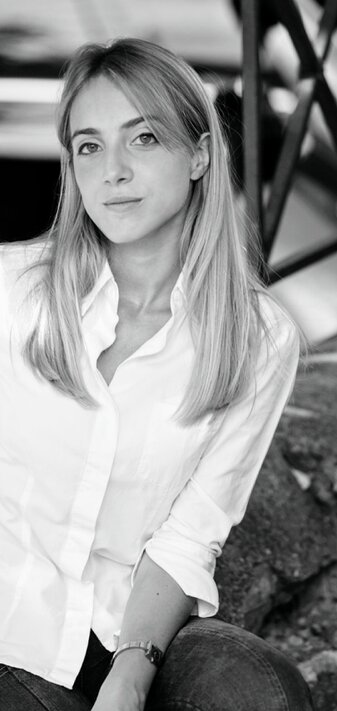 Caterina Di Cecca is an Italian composer based in Rome.
Winner of important international composition competitions (Open Call "SIAE Classici di Oggi 2018/2019" – Commission for Orchestra, ['tactus] Young Composers' Forum of Mons, George Enescu International Composition Competition of Bucharest,
Biennale College Music of Venice,
Franco Donatoni International Meeting for Young Composers of Milan), she has received commissions by several organizations and institutions including Fondazione Lirico Sinfonica Petruzzelli e Teatri di Bari,
Aldeburgh Festival in cooperation with Ulysses Network,
"SIAE – Classici di Oggi" in partnership with Orchestra della Toscana,
Ars Nova Ensemble in collaboration with SACEM,
Biennale di Venezia,
Divertimento Ensemble supported by
Ernst von Siemens Foundation,
Orchestra Sinfonica Abruzzese,
Riot Ensemble,
Puccini Festival, Collegium Musicum Chamber Orchestra of Lviv, Associazione Nuova Consonanza, World Exposition 2015 and Fondazione Spinola Banna per l'Arte, for which she was also Composer-in-Residence in 2015.
Her scores, selected in renowned international calls for scores and conducted among others by
Gregory Charette,
Daniele Rustioni,
Geoffrey Paterson,
Carlo Rizzari,
Jean–Paul Dessy,
Sandro Gorli,
Aaron Holloway–Nahum,
Michele Gamba,
Chino Toledo,
Alessandro Cadario
and
Igor Dronov, have been performed and programmed in Austria, Belgium, England, France, Germany, Italy, Luxembourg, Mexico, Russia, Serbia, Spain, Sweden, Switzerland, The Netherlands, The Philippines, Ukraine and USA by ensembles and orchestras such as Neue Vocalsolisten (DE),
Musiques Nouvelles (BE), Ensemble Échappé (US), Ensemble Mosaik (DE), Divertimento Ensemble (IT), Riot
Ensemble (UK), Ensemble Oerknal! (NL),
Ars Nova
Ensemble
(FR),
Ulysses Ensemble,
Ensemble Reconsil (AT),
Studio for New Music (RU), Birmingham Contemporary Music Group (UK), Blow Up Percussion (IT), Ensemble Nostri Tem
poris (UA), Versipel New Music (US), Ensemble Alternance (FR), Solisti Aquilani (IT), Lviv Virtuosos String Orchestra (UA), Orchestra Sinfonica Abruzzese (IT), Tofarm Festival Orchestra (PH) and Orchestra della Toscana (IT).
Her works have been presented and programmed in festivals and venues like Kings Place (UK),
Stagione Sinfonica dell'ORT (IT),
Columbia University
–
The Italian Academy (US),
Biennale di Venezia (IT),
Aldeburgh Festival
–
Snape Maltings
(UK),
Stagione dei Concerti della Normale di Pisa (IT),
['tactus] Young Composers' Forum (BE), Festival Milano Musica (IT),
Gaudeamus Muziekweek
–
GMW Academy
(NL),
Puccini Festival (IT),
International Telekom Beethoven Competition Bonn (DE),
MITO SettembreMusica (IT),
Festival "Le vent sur l'arbre" (FR),
Accademia Nazionale di Santa Cecilia
–
Parco della Musica
(IT),
International Competition of the Moscow Conservatory for young composers "New Classics" (
RU), MusAnima – Istituzione Sinfonica Abruzzese (IT), International Review of Composers in Belgrade (RS), Festival Nuova Consonanza (IT), Reconsil's Concert Cycle – REAKTOR (AT), Stagione Rondò (IT),
CBSO Centre (UK),
World Exposition 2015 (IT),
Ciclo Internacional de Música "Laberintos Sonoros" (MX), IUC – Istituzione Universitaria dei Concerti (IT),
CCP
–
Cultural Center of the Philippines
(PH)
and many others.
Her music is published by Edizioni Suvini Zerboni of Milan and it has been broadcast on Musiq3, RAI – RadioTre, RadiostART and Euroclassical.